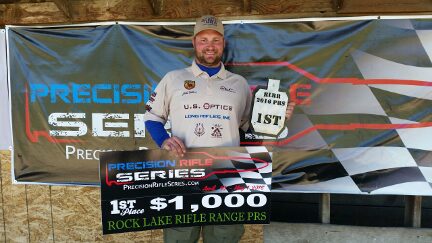 Residing in Cheney Washington, Jake owns JC Steel targets Inc. and is a strong competitor in the Precision Rifle Series. In just three years, he has earned an impressive shooting resume with consistent top finishes at national level events.
A devoted husband and father, Jake has formal degrees in sports medicine and youth ministry. An avid outdoorsman, he enjoys hunting and fishing with his family and mentoring disadvantaged children through his youth ministry service.
Make an introduction to Jake and you'll be responded to instantly with a big grin and firm handshake. One is hard pressed to find a nicer person.
Certifications and Courses
Jake's competitive shooting titles include:
2016:
1st Place-Rock Lake Rifle Range PRS
1st Place-South Dakota Classic
1st Place-Cold Bore Challenge Winter
2nd Place-Nor Cal Bolt Rifle Challenge
2nd Place-New Mexico Precision Rifle Championship
3rd Place-Blue Rifle Rifle Challenge
2nd Place-Cold Bore Challenge
2015:
1st Place-2015 Arizona Precision Rifle Championship
1st Place-Snipers Hide Cup Colorado
1st Place-Northwest Precision Rifle League CW
2nd Place-Rifles Only 308 Bash Texas
3rd place overall finish in the Precision Rifle Series.
3rd Place-Precision Rifle Series Championship California
4th Place- PRS Quiet Riot Utah
10th Place-Heat Stoke Open Oklahoma
2014:
1st Place Overall LRH division
1st Place-Silencerco quiet riot Precision Rifle Utah
1st Place-Field Shooters Challenge
1st Place-Vantage Precision Rifle
2nd Place-Benchmark Winter Shootout
5th Place Idaho precision rifle series
6th Place-Precision Rifle Championship Texas
9th place NorCal bolt rifle challenge
9th place tactical matches rifle championship
2013:
1st Place-FSC Washington
1st Place-Kettle Falls Steel Challenge
1st Place-In-Motion Team Rifle Challenge
2nd Place-PRS Findlay Cup
1st Place-Field Shooters Championship
2nd Place-Oregon Sniper Challenge
2nd Place- Big Steel Challenge
4th place- Washington Findlay Cup