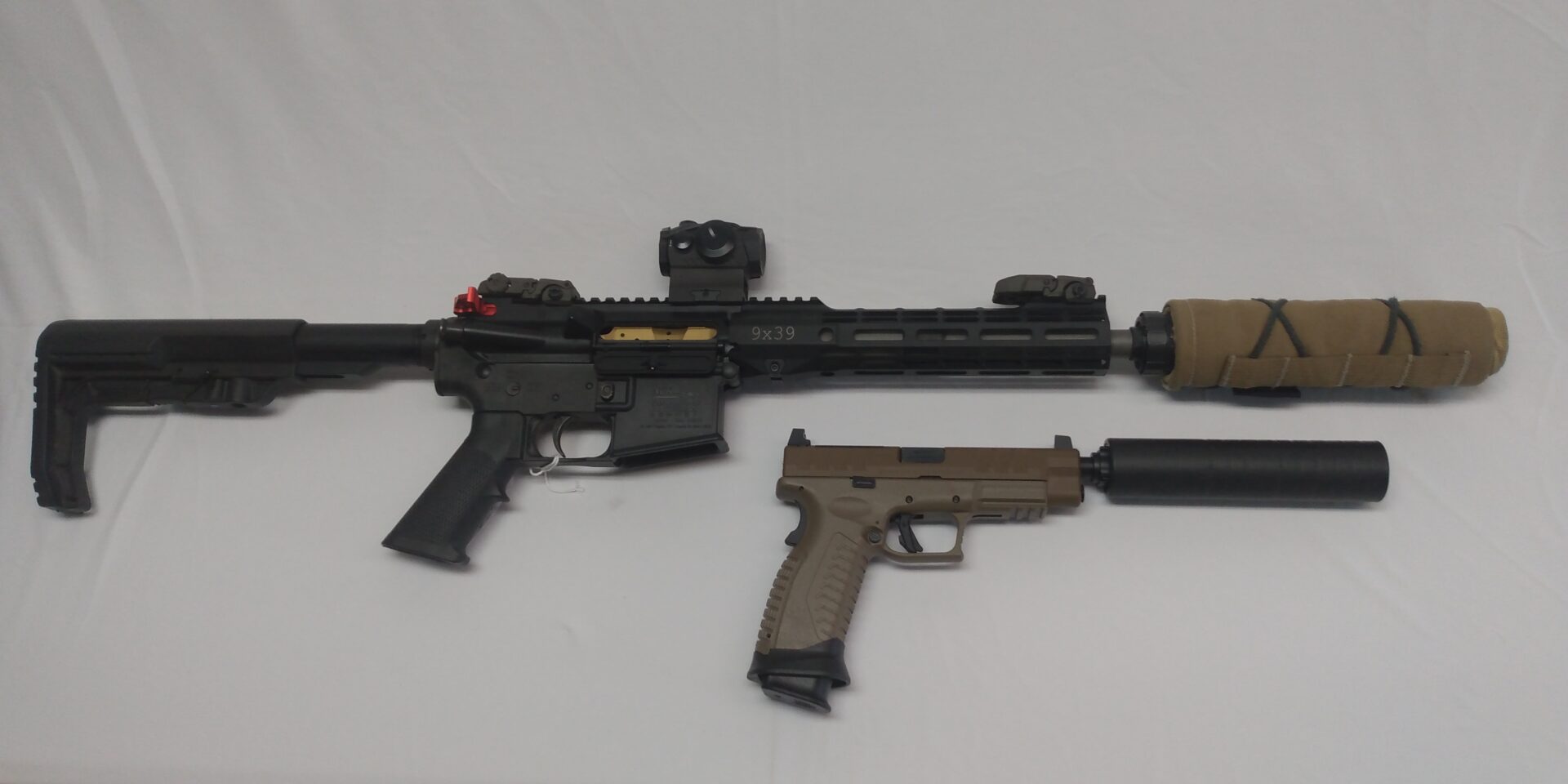 The following equipment is required before attending handgun courses.
Much of the equipment listed can be found in good sporting stores, and quality gun shops. You may also find the Internet quite helpful as a source of supply.
1. Brimmed field hat - Boonie cap is preferred although a good
  ball cap or military BDU style hat will suffice.
2. Light colored long sleeve shirt - should be loose fitting and
  comfortable, and should allow the wearer to roll up sleeves.
3. Light colored BDU style or six pocket field pants.
4. Sturdy leather belt or military belt designed for wear in 1 1/2 inch belt loops which are the same size as the loops in the pants.
5. Firearm specific, friction fit holster designed for the firearm that you'll be shooting in the class. No snaps, flaps, or straps allowed.
6. Friction fit magazine, or speed loader pouches. Again, no snaps , flaps, or straps.
7. Good used field boots. Please do not bring new boots that
  are not broken in unless you also bring first aid equipment for
  your blisters.
8. Wool Socks, and foot powder ( blisters again ).
9. Jacket or other concealment wear for your firearm. When worn over the firearm, the firearms must not be visible to the casual observer.
10. Eye and ear protection that meets industry specifications. Eye and ear protection must be designed to be used as shooting glasses and hearing protection.
11. Tactical, elbow and knee pads are a must for all classes other than the CCW; however, you may find them useful in the CCW class.
12. A field kit with sunscreen, band aids, mole skin, finger nail clippers, tough skin ointment.
13. Bring 5 gallons of water, at least 2 gallon of water for CCW.
14. 1200 rounds of ammunition for your firearm, or 200 rounds for CCW.
15. Tactical flashlight with A push button on the rear of the
  light. Such as Surefire (tm), with a lanyard and belt holster for the light. Please bring extra batteries.
16. At least 18 snap caps or dummy rounds for your handgun.
17. Bring a good quality shooters/range bag for your equipment and accessories.
18.  Whatever you wish to eat for lunch; however, keep it light as you will be training after lunch.  
The following is the required equipment for rifle courses. The equipment must be acquired before attending classes. They can be acquired by going to the Gear and Reloading link to the left and ordering from one of our partners.
Equipment List  Rifle:
1. AR-15, or AK platform.  Iron Sights Centerfire calibers.
2. One or Two position sling
3. One Drop pouch for rifle magazines
4. One Magazine pouch for rifle magazine.
5. Four Rifle Snap Caps for your rifle.
6. 1000 rounds of ammunition.
7. Pistol, with pistol belt and belt holster, kydex rig fit for your handgun
8. Three pistol magazines
9. Four Snap Caps for pistol
10. 200 rounds of pistol ammunition
11. Dual magazine pouch for pistol magazines
12. Shooting Glasses
13. Hearing Protection
14. Knee and elbow Pads
15. Six pock pants or BDU's
16. Long sleeve shirt
17. Brimmed Field Cap
18. Shooting Gloves
19. Field shoes /or boots
20. Cleaning Kit for rifle and pistol
21. Operators Manual for your rifle and Pistol.
22. 1 gallon of water and a lunch for each day.
** Light and mount required on guns for intermediate and advanced classes as we will be shooting at night.
NOTE
You will have an inspection at the beginning of each day. If you need equipment you have to acquire it before the section of the class is taught that requires the equipment. You will be briefed each day on the next day's activities to allow you to make up your equipment if you lack anything however, make sure you have at least 1200 rounds of ammunition before the day of the class as ammunition is hard to come by and supplies cannot be guaranteed at the course.